"COVID-19: What Are State Governments Doing In the Face of the Crisis?"
---
Courtesy of IMCO
Since the start of the emergency, state governments announced actions to help mitigate the negative economic impact of COVID-19, and local authorities are implementing emerging plans to support families, workers and small businesses. 
These local economic revival efforts are diverse. State authorities have designed programs and actions with different operational approaches that are tailored to the needs of each entity. Additionally, the budgeted amounts for each strategy vary within a wide range, according to the financial capabilities of each state and the design of the programs.
Based on the information contained in the database of the map of economic measures in the face of the pandemic COVID-19 from the Center for Economic Research and Teaching (CIDE), the Mexican Institute for Competitiveness (IMCO) classified and analyzed the types of measures of most popular economic reactivation that state governments are implementing, with the aim of showing the range of supports that states can provide. In this way, governors will have more information about the best options of economic support that they can offer to their populations.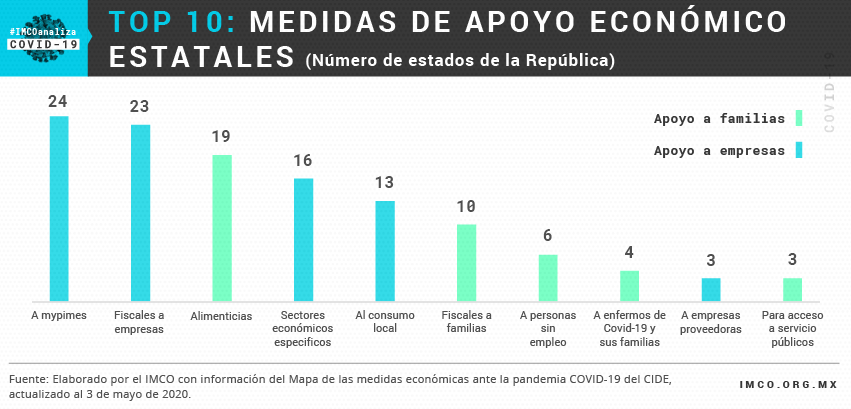 The measures most frequently adopted by state governments are shown in the graph above. These support schemes for local economies are necessary so that families and companies have the opportunity to face the emergency by protecting their income, generating liquidity for their operation and providing resources for their recovery after the emergency. However, the mechanisms and characteristics with which the supports are made available to the population determine their potential impact.
Families
Giving food packages to families is the most popular form of support in this area. This type of aid is already being implemented in 19 of the 32 states of the Republic. For this, the state governments have had to resort to actions such as increasing the capacity of the DIF state centers, restructuring the social development budget, accepting in-kind donations from companies in the region, and enabling collection centers.
A good practice in some states has been to buy food with local producers or SMEs in the region. Additionally, each state, according to its capabilities, has established support delivery goals, for example, 5 thousand packages a day in the case of the state of Baja California, or deliver up to 78 thousand packages during the contingency in the state of Aguascalientes.
An important part of the implementation of food supports is to identify the priority vulnerable groups: low-income communities, communities far from urban areas, indigenous people, pregnant women, the elderly, people with difficulty moving, people who no longer have income from the stoppage of activities and virus carriers. 
Once the groups are identified, state governments deliver the pantries directly to homes, or to strategic distribution points where people can go to pick them up. Even the state of Michoacán has enabled communication channels where people can request this type of support via telephone or online to reach their doorstep. 
Small Businesses
According to the Economic Census 2019 of the National Institute of Statistics and Geography (INEGI), the micro, small and medium enterprises (MSMEs) account for over 99% of the total establishments in Mexico and employ over 69% of the personnel employed . This group of companies is particularly vulnerable to contingencies, even more those dedicated to sectors of tourist services, hotels, restaurants and commerce. 
At the state level, 24 governments recognize their vulnerability and have adopted more than one type of support for MSMEs to achieve better coverage of the needs of this group of companies. The most frequently implemented action in the states is to offer credits and other types of financing. To do this, governments have created support funds with extraordinary resources that were subtracted from other items of public spending. 
The amounts of the financing range from 10,000 pesos to 2.5 million pesos. The range of loan amounts is very large because they are aimed at very diverse profiles of companies. Support programs are differentiated according to the number of people who work in the company. Some governments focus on companies with up to 5 employees, others with up to 10, or with a cap of up to 50 workers. Some supports are specifically aimed at business owners covering payrolls, others are aimed at entrepreneurs who are also within a vulnerable group, such as female heads of families, youth and indigenous people.  
The amount awarded determines the characteristics of the forms of payment, such as the interest rate. Some loans with a 0% rate are mainly aimed at micro and small companies, while loans with a rate of 3% or 8% are intended for small and medium-sized companies. There is also variation in grace periods ranging from one month to 6 months to give the first corresponding payment, some payments are made only to principal and some only on interest.
In general, the requirements to access these credits are not complex. However, to access larger amounts, some financing requires submitting a guarantee, the company's articles of incorporation and its fiscal address. Most financing does not make a distinction between formally established companies and those that are not.  
Lastly, governments like the one in Coahuila give priority to companies that present innovative ventures to COVID-19 or like Campeche that supports projects for reconversion of activities focused on contingency needs.
IMCO Proposes:
1.Design a comprehensive state economic recovery plan that includes a range of actions that offers certainty and helps contain the effects of the crisis for families, workers and companies. Of the 10 measures listed, the average per state is only three actions implemented. More lines of action should be explored and implemented to complement the current ones. At least one month of emergency period remains in which governments still have time to design and implement rescue and recovery measures. 
2. Identify the most urgent needs of the population according to sociodemographic characteristics, vulnerability to the health emergency and the local economic structure. The actions must allow families to maintain their income from work, remittances and others related to informal entrepreneurship. Workers must have some type of temporary unemployment insurance, especially those who work in the most affected sectors such as tourism, hotels, restaurants, shows and recreational services. Companies must be supported with liquidity in order to maintain jobs, which implies making transfers and fiscal support directly to payrolls and conditioned to minimize layoffs. 
3. Limit the use of cash in the distribution of economic support to families and SMEs. Direct transfers using bank accounts, prepaid cards and mobile money services are an efficient alternative to bring resources to the population and allow them to spend it on their particular needs. It is preferable that this type of support comes through electronic purses, through the use of the installed networks of distribution of social programs to avoid the use of cash as much as possible.  
4. Make use of vulnerability measurement tools against contagion risk to direct investments in water, sanitation, access to the health sector and other public services that can reduce the risk of spread once the first wave of contagion ends.
5. Expand the capacity of existing supports. Various states of the Republic already have programs to help vulnerable sectors and financing for MSMEs that are regularly available to the population. However, the emergency requires allocating more budget to these items. This also involves reviewing possible sources of short-term financing, such as debt. Local executives should work in coordination with their congresses to streamline the process of searching for financing mechanisms and budget reallocation.
6. Coordinate actions with municipal governments and contemplate existing federal supports with the intention of complementing efforts instead of duplicating them. 
7. Transform the way in which resources are exercised, where they come from and where they are directed. Having a correct control of the beneficiary lists avoids patronage acts, embezzlement of resources and acts of corruption.  
8. Make it easier for the population with the highest economic vulnerability to comply with # StayHome. To the extent possible, support actions should be designed so that people do not have the financial need to go outside and avoid crowds in offices, workplaces and public transport. 
State governments, like the federal government, require economic recovery plans that are aligned with the needs that arise from the health emergency. It is not a matter of giving continuity to what was already planned, nor of proposing actions that will be effective until the end of the contingency. 
Faced with the most serious economic crisis in recent decades, states must implement extraordinary measures and make an exceptional effort with the way in which social and tax policy is conducted. States need real rescue plans aimed at supporting families, workers and businesses that make subsistence and subsequent economic recovery possible. 
---