When the COVID-19 pandemic hit, critics alleged the United States was reliant on China for the active pharmaceutical ingredients (API) that are required to manufacture many prescription drugs. But according to a recent study from U.S. Pharmacopeia (USP), 89.7 percent of manufacturing facilities that produce 10 or more API products are located in countries other than China.
Figure 1: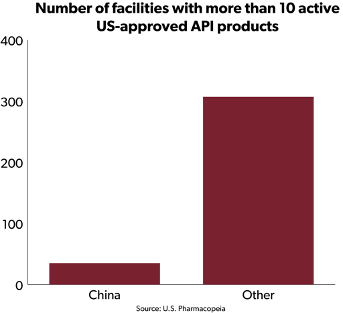 Compare that statistic to statements like these that were made during the pandemic:
The USP study found that India, not China, is our main supplier of API. As Bloomberg reported: "Active ingredient production, the USP found, is far more concentrated in India than was previously understood given the FDA's limited data, which had made China look like a more dominant player in the pharmaceutical supply chain than it really is."
This is reminiscent of the time Michael Jordan scored 69 points in a game, after which his Chicago Bulls teammate Ed Nealy called his mother to report that he and Jordan had combined for 72 points.
In retrospect, efforts to induce a panic over our alleged reliance on imports from China may have been largely based on pseudo-facts. Fortunately, misguided efforts to cut off supplies of medical imports were put on the back burner pending the results of a National Academies report on America's medical product supply chain security that Congress requested in the CARES Act. Taking the time to gather the relevant facts instead of disrupting global supply chains based on clickbait headlines is increasingly looking like a wise move. 
---
Bryan Riley is Director of National Taxpayers Union's Free Trade Initiative.
---